Rebuilt Cape Creek Dock Opens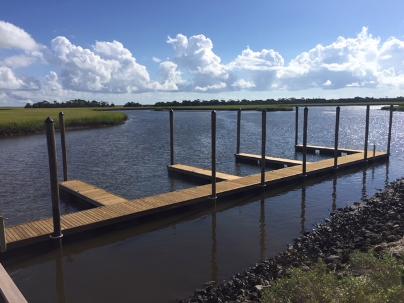 Our previous dock, which was showing its age and had been damaged in a storm last year, was replaced and improved. It now has nine slips perpendicular to the creek and will soon have a kayak launch dock as well. The developer's payment at the time of turnover to the Association provided much of the funding for the dock rebuilding.
The dock can only be used by Middle Island property owners. Further information about the use of all Middle Island docks can be found here.
The dock fees, which are paid by dock users once a year as a supplemental assessment, are found here. To pay the supplemental assessment, please send an email to pardee@islc.net and to middleislandpoa@gmail.com with information about the boat (Make and model, length, registration number) or the kayak (make/model, length, and color) and the specific use category that applies. Please send check to: MIPOA, C/O Charles A. Pardee, Jr., 4097 Spring Island, Okatie, SC 29909-4040.