MAGNETIC LOCKS AND PROXIMITY CARDS ARE COMING TO MIDDLE ISLAND
As you may know, we have planned for some time to transition from mechanical locks with different physical keys to magnetic locks all operated by the same proximity cards. Magnetic locks and proximity cards should fare better in our sandy beach environment. When a lock needs to be replaced or rekeyed, we no longer will have to mail new keys to all property owners.

Our first step is to replace the padlock at the floating dock on Bald Head Creek with the proximity card system. This will be done in April so we can test the system in our Middle Island environment. The Beach Access will remain on the same keyed lock through the summer.

In April, every property owner will receive an email with information about when your prox cards will be sent, how you may pay for a limited number of additional cards, and how you can replace a lost card. At that time, you can also tell us if you want the card(s) sent to an address other than the one where your annual assessment notice is sent, or if you have other instructions.

Each of your prox cards will operate both the lock at the Bald Head Creek dock and the lock at the beach access.
IF you will be using the Bald Head Creek Floating Dock between now and May 1, send an email to middleislandpoa@gmail.com and tell us how we can get

one

of our limited supply of test proximity cards to you (for example, "Mail it to:___" or "Slip my card under my cart garage door" or "I will pick it up from David Ward"). Otherwise, please wait for the regular distribution of prox cards this summer.

ANNUAL BUDGET MEETING OF THE MIDDLE ISLAND PROPERTY OWNERS ASSOCIATION and
OPEN MEETING OF THE BOARD OF THE MIDDLE ISLAND PROPERTY OWNERS ASSOCIATION
The Annual Budget Meeting of the property owners association to consider the proposed operating budget, reserve fund budgets, and annual dues was held by conference call on Monday, December 3rd at 5 PM. The bottom line: although we have included additional assets in our reserve study and adjusted our reserve contributions based on a preliminary reserve study, the proposed 2019 dues are the same as the 2018 dues. The budget documents and dues were adopted. Click on the document name to go directly to the document.
IMPORTANT NEW INFORMATION ABOUT STORM DEBRIS REMOVAL - posted October 15
After the Association's research on FEMA policies and the policies of nearby communities governing storm debris on private roads, and after several meetings and emails with the Village, Chris McCall has confirmed with Brunswick County and with Crowder Gulf (the storm debris removal contractor) that Middle island will be eligible for roadside collection of storm debris from Hurricane Florence, even though our roads are private. Both property owners and their contractors should place debris alongside (but not in) Middle Island roadways.
POST-FLORENCE REPORT ON THE STATE OF MIDDLE ISLAND - posted Sept. 26
Board member Fred Craig and MIPOA employees David Ward and Ryan Thompson inspected Middle Island by landing at our newly-rebuilt Cape Creek Dock and traveling our roads. David and Ryan made some urgent repairs to East Beach Drive, but in general Middle Island fared well during the storm. You can read Fred Craig's report here.
LINKS TO POST-FLORENCE HELICOPTER FLY-BY VIDEOS AND OTHER PICTURES
We sent an update to property owners on September 20, and will send further information once we have been able to get to Middle Island to perform a careful inspection of storm damage. In the meantime, the Association arranged for an initial survey of Middle Island by High Tide Helicopters.
The Maritime Forest can be seen at https://youtu.be/BpsVyjPzp-Y
East Beach Drive homes can be seen at https://youtu.be/2qHuGbT2Q5M
Our new Cape Creek Dock can be seen at https://youtu.be/3cu0FNgR3xA
An extensive set of pictures of Bald Head Island more generally from Sept 17 or 18 can be seen at https://www.facebook.com/SearchCharlotteProperties/photos/a.626657734397416/626668057729717/?type=3&theater
A set of photos from the Star News online can be seen at
http://www.starnewsonline.com/photogallery/NC/20180919/NEWS/919009983/PH/1?start=1
ANNUAL MEETING OF THE MIDDLE ISLAND PROPERTY OWNERS ASSOCIATION
Our Annual Meeting was held September 1, 2018, at the Conservancy. The membership elected Rex Cowdry, Fred Craig, and Alan Reyner to three-year terms. You can view a PowerPoint presentation of the key meeting topics here, and the draft minutes here.
The opening of the rebuilt Cape Creek Dock was announced at the meeting. A picture and more information about the dock can be found here.
BALLOT RESULTS: MIDDLE ISLAND ROAD OPTIONS
Chuck Pardee, the Association's accountant, has reported the results of the balloting. Ballots were received representing 93 of the 109 lots.

On the proposal to pave the roads and convey them to the Village, 28 were for, and 64 against.
East Beach Drive lots voted 4 for and 15 against conveyance.
Forest lots voted 24 for and 49 against the special assessment and conveyance.
On the proposal to pave the roads, if they remain private, Forest lots voted 23 for and 47 against the special assessment to pave the roads.

On the proposal to have a non-binding 5-year moratorium on reconsideration of conveyance, 68 were for, and 25 against
East Beach Drive lots voted 12 for and 8 against
Forest lots voted 56 for and 17 against
Prior to the vote, the Board held three meetings to discuss the options for Middle Island roads. You can view the presentations:
The Board's presentation about the costs of road options (click here)
Preserve Middle Island presentation advocating for a private community with private roads (click here)
Paved Roads Advocacy Group presentation advocating for paving and turning the roads over to the Village (click here)
2018 ASSESSMENTS
For the fourth consecutive year, all assessments were paid. Thank you all for your prompt support of our association and our activities on your behalf.
2017 ANNUAL MEETING and ANNUAL BUDGET MEETING

Our combined Annual Meeting and Annual Budget Meeting was held at the Conservancy at 3pm on November 25, the Saturday of Thanksgiving weekend. The Agenda and the Presentation can be found here under the Annual Meeting listing.
The 2017 Annual Meeting of the Association include interim presentations about the road options and the Cape Creek Dock and Ramp, and ample opportunity for property owners to ask questions and to comment on the work to date on these issues.
The Annual Budget Meeting approved the 2018 Operating Budget, Reserve Funds Budget, and Annual Assessments, adopted by the Board on October 2. Those budget documents are found here under Materials for the October 2, 2017 Board Meeting. (They are also included in the slide presentation for the Annual Meeting.) The proposed annual assessment will increase between 1.9% and 3.9% depending on lot type, our first increase in three years. This increase primarily reflects our expectation that the Youngs will use less of David Ward's time in 2018. The operating fund surplus at the end of 2017 was distributed as follows: 50% to property owners as a credit against 2018 dues, 50% applied to the General Reserve Fund.
***************************
CONTACT INFORMATION: David Ward is your contact for key replacements or to report problems and concerns with the beach access, docks, roads or other Middle Island common amenities. Contact him at luckyseahorse13@gmail.com
Questions, comments, and suggestions about policies, priorities, and dues should be sent to the MIPOA board at middleislandpoa@gmail.com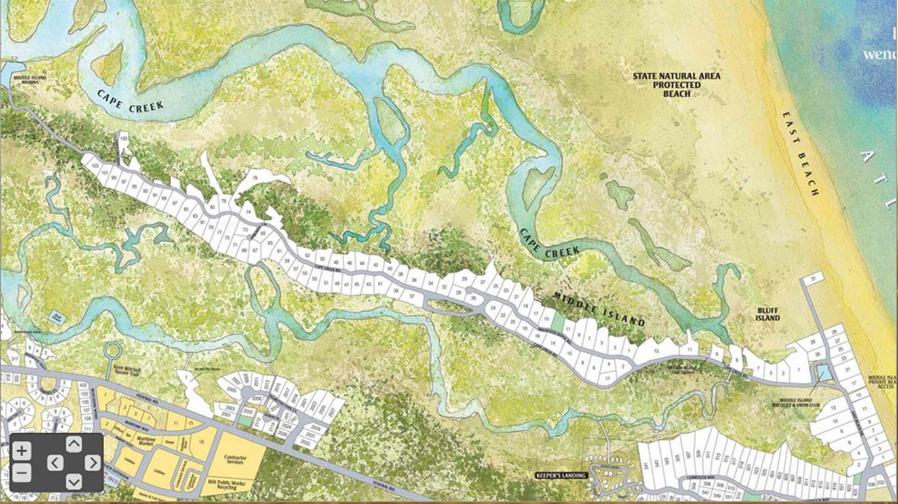 The mission of the Middle Island Property Owners Association (MIPOA) is to maintain and improve the Association's amenities; to enhance the experience of owners and visitors; to protect the investment property owners have made in our community; and to foster the unique natural environment of Middle Island.
We aim to provide excellent, cost-effective, and responsive management on behalf of our members.
Map courtesy of Wendy Wilmont Properties