2018 BUDGETS AND ASSESSMENTS
At the Annual Meeting of our Association in November, property owners adopted an operating budget and a reserve fund budget.
2018 Operating Budget 2018 Reserve Funds Budget
Property owners also adopted Annual Assessments for 2018. We also agreed that 50% of any operating fund balance at the end of 2017 would be returned to property owners as a credit against 2018 dues, and the other 50% would be deposited to enhance our general reserve fund. We ended 2017 with an operating fund balance of $12,661.
The table below shows the full annual assessments for each year since turnover (before any credits), the credit against 2018 assessments resulting from the 2017 operating surplus, and the net 2018 assessment.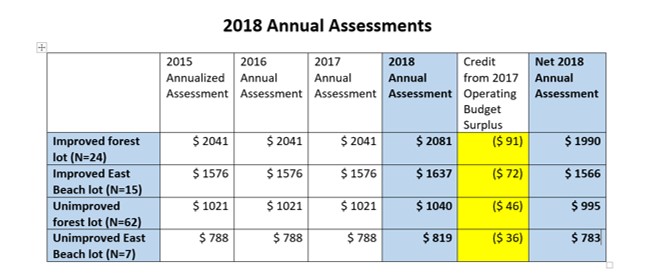 The 2018 net assessments are still less than the assessments that our Covenants allowed in 2015.
PREVIOUS YEARS' BUDGET AND ASSESSMENT DOCUMENTS
2017 Budget was approved at the annual budget meeting held on November 21, 2016
2017 Operating Budget 2017 Reserve Funds Budget 2017 Dues
2016 Budget was approved at the annual budget meeting held on November 20, 2015